Ander
Sales Manager
Changzhou LangO
Mobile: +86 18701194220
Email: sale02@lango-machinery.com tankeroilwell@yahoo.com
Mud Pump and Spares
Our F-Series Mud Pumps feature an advanced and durable design with interchangable suction and discharge valves, dual lubrication system, low-speed long strong operation and an independant fluid end. This makes this mud pumps ideally suited for medium deep wells.
Features
Low-speed Long Strong design lengthens liftetime of vunerable fluid related parts.

Forced and splash lubrication for more effective lubrication.

Advanced durable design ensures smooth operation.

Meets the special requirements required if you wish to drill medium deep wells.

Interchangable and compact suction and discharge valves.

Fluid end is independent making examination and maintenance more convenient.
Components of Series F Mud Pumps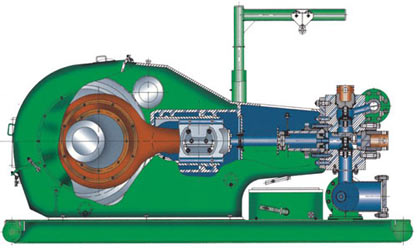 Specifications of Series F Mud Pumps
Model

F-500

F-800

F-1000

FB-1300

FB-1600

FC-2200

Max. input power

HP

500

800

1,000

1,300

1,600

2,200

kW

373

597

746

969

1,193

1,641

Rated speed (spm

165

150

140

120

120

100

Max. ID of cylinder liner

in

6 3/4

6 3/4

6 3/4

7

7

8

mm

171

171

171

177.8

177.8

203

Stroke

in

7 1/2

9

10

12

12

15

mm

191

229

254

304.8

304.8

381

Test hydraulic pressure of hydraulic cylinder

psi

7,500

7,500

7,500

7,500

7,500

7,500

kg/cm2

527

527

527

527

527

527

Gear ratio

4.38:1

4.31:1

4.32:1

4.31:1

4.3:1

4.27:1

Dia. of suction pipe in

8

10

12

12

12

-

Dia. of discharge pipe in

4"

5"

5"

5"

5"

-

Specifications of valves

API 5

API 6

API 6

API 7

API 7

API 8

Weight (excl. belt wheel)

lbs

19,900

26,603

33,770

45,650

46,820

79,600

Kg

9,027

12,067

15,318

20,707

21,238

36,108
F-1000 Mud pump technical specification
Type

Horizontal 3-cylinder single role piston pump

Pinion spidle dia(mm/in)

177 8/7"

Rated input power (KW/HP)

738/1000

Pinion spindle outside prolonged length

340/133/8"

Rated stroke (time/min)

140

Chain connection size

50.8x25.4x2" x1"

Stroke length (mm/in)

254/10"

Valve cavity dimension

AP1-6"

Gear type

Herringbone gear

Static hydraulic strength test

Mpa 68.6
kgf/cm2 700

Gear driving ratio

4.207:1

Profile dimension (LxWxH)

mm 4120x2260.6x1778
inch 1623/8" x89" x70"

Suction side connection dimension

12" (305mm) flange

Base width (mm/in)

1600/63"

Discharge side connection dimension

51/8" flange (5000AP)

The main machine weight (kg/pound)

18790/41425

Cylinder bush internal hole dia(mm)

Ø170

Ø160

Ø150

Ø140

Ø130

Mpa(kgf/cm2)
Rated pressure Mpa(kgf/cm2)
16.46
(168)
18.59
(190)
21.18
(216)
24.27
(247
28.19
(287)

Stroke rate (Stroke/Min)

Power

Displacement (L/S)

KW

HP

150

791

1070

43.26

38.30

33.62

29.33

25.25

140

738

1000

40.39

36.76

31.39

27.39

23.58

130

686

929

37.52

33.22

29.16

25.45

21.91

120

646

857

35.34

31.29

27.47

23.97

20.63

110

580

786

31.75

28.11

24.67

21.53

18.53

100

527

714

28.84

25.53

22.41

19.56

16.84

1






0.2884

0.2553

0.2241

0.1956

0.1684

F-1300 Mud pump technical specification
Type

Horizontal 3-cylinder single role piston pump

Gear Type

Herringbone gear

Rated input power (KW/HP)

969/1300

Gear driving ratio

4.206:1

Rated stroke (time/min)

120

Lubrication

Forced and flashing

Stroke length (mm/in)

305/12"

Valve cavity

AP1-7#

Suction side connection dimension

12" (305mm)

Discharge side connection dimension

5" Flange 5000psi

The main machine weight (kg/pound)

24572/54170

The max. diameter of cylinder

Ø180/7"

Stroke/Min.

Cylinder bush internal hole dia

Ø180

Ø170

Ø160

Ø150

Ø140

Ø130

Rated pressure

18.7
(2720)
21.0
(3050)
23.7
(3440)
27.0
(3915)
31.0
(4495)
34.5
(5000)

Rated power

Displacement(L/S) (GPM)

KW

HP

130

1050

1408

50.42
(799)
44.97
(713)
39.83
(631)
35.01
(555)
30.50
(483)
26.30
(417)

120

969

1300

46.54
(737)
41.51
(658)
36.77
(583)
32.32
(512)
28.15
(466)
24.27
(385)

110

889

1192

42.66
(676)
38.05
(603)
33.71
(534)
29.62
(469)
25.81
(409)
22.25
(352)

100

808

1083

38.78
(614)
34.59
(548)
30.64
(485)
26.93
(427)
23.46
(372)
20.23
(320)

90

727

975

34.90
(553)
31.13
(493)
27.58
(437)
24.42
(384)
21.11
334)
18.21
(288)

1





0.3878
(6.147)
0.3459
(5.483)
0.3064
(4.857)
0.2693
(4.269)
0.2346
(3.719)
0.2023
(3.206)

F-1600 Mud pump technical specification
Type

Horizontal 3-cylinder single role piston pump

Gear Type

Herringbone gear

Rated input power (KW/HP)

1193/1600

Gear driving ratio

4.206:1

Rated stroke (time/min)

120

Lubrication

Forced and flashing

Stroke length (mm/in)

305/12"

Valve cavity

AP1-7#

Suction side connection dimension

12" (305mm)

Discharge side connection dimension

5" Flange 5000psi

The main machine weight (kg/pound)

24572/54170

The max. diameter of cylinder

Ø180/7"

Stroke/Min.

Cylinder bush internal hole dia

Ø180

Ø170

Ø160

Ø150

Ø140

Ø130

Rated pressure

23.6
(3345)
25.9
(3750)
29.2
(4235)
33.2
(4820)
34.5
(5000)
35.1
(5000)

Rated power

Displacement(L/S) (GPM)

KW

HP

130

1050

1408

50.42
(799)
44.97
(713)
39.83
(631)
35.01
(555)
30.50
(483)
26.30
(417)

120

969

1300

46.54
(737)
41.51
(658)
36.77
(583)
32.32
(512)
28.15
(466)
24.27
(385)

110

889

1192

42.66
(676)
38.05
(603)
33.71
(534)
29.62
(469)
25.81
(409)
22.25
(352)

100

808

1083

38.78
(614)
34.59
(548)
30.64
(485)
26.93
(427)
23.46
(372)
20.23
(320)

90

727

975

34.90
(553)
31.13
(493)
27.58
(437)
24.42
(384)
21.11
334)
18.21
(288)

1





0.3878
(6.147)
0.3459
(5.483)
0.3064
(4.857)
0.2693
(4.269)
0.2346
(3.719)
0.2023
(3.206)